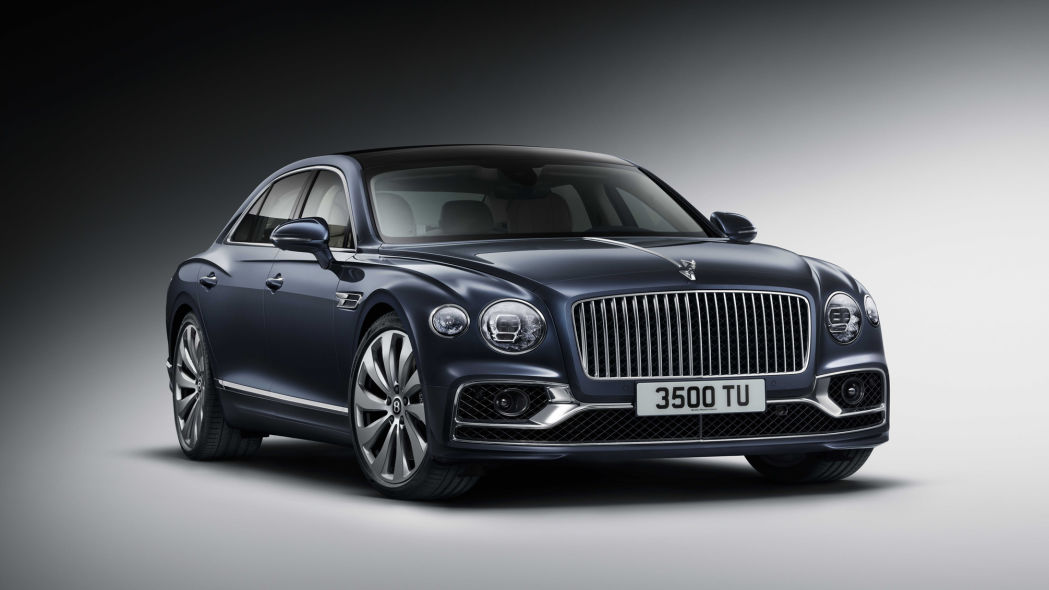 THE NEW 2019 BENTLEY FLYING SPUR
The new Flying Spur* is a unique fusion of breathtaking performance, contemporary design and intuitive technology. It delivers an enriching experience for both the driver and those who prefer to be driven.
With a graceful yet commanding form, intricate detailing and sharp design lines, the new Flying Spur has an assertive road presence. Inside, tactile materials and modern craftsmanship combine to create a stylish and tranquil environment.
The same sense of refinement flows into the car's performance. Powerful and dynamic, the car automatically adapts to changing environments and driving conditions. Intelligent and intuitive My Bentley Connected Car technology has been seamlessly integrated throughout, allowing you to shape your own journey.
COMMANDING FORM
The new Flying Spur's confident form immediately commands attention. The gloss-black radiator matrix grille with new bright chrome vertical vanes sets the tone. Sharp, uninterrupted design lines - created using the largest super formed panel in the automotive world - draw the eye over the car's graceful yet muscular new profile. By positioning the front wheels further forwards we have lifted the bonnet profile to create balanced proportions. The result is an exterior with a sophisticated and captivating look.
INTRICATE DETAILING
All the considered details on the new Flying Spur come together to create a journey of constant discovery. Eye-catching front LED matrix headlamps add to the car's assertive presence, with matrix-beam technology and a cut-crystal effect. Set in a new chrome sleeve, the headlamps sparkle like jewels even when they are not lit. The detailing on the B-shaped rear lamps is equally stunning, echoing the unique diamond knurling found inside the car.
Make an Inquiry